Bus Service to and From Prague Airport
The bus services are ideal for larger groups of people. However, do keep in mind that there are some hotels located in the historical centre of Prague that may not be accessible by a big bus. In such cases, you can opt for multiple minibuses or minivans, depending on the size of the group.
€ 41

Minibus

MB Vito / VW Transporter
€ 83

2x Minibus

MB Vito / VW Transporter
€ 105

Larger Minibus

MB Sprinter
€ 134

Larger Minibus

MB Sprinter
Bus Service Hourly Rental Rates
€ 37

Minibus

MB Vito/VW Transporter
€ 42

Minibus

MB Vito/VW Transporter
€ 105

Minibus Sprinter

MB Sprinter minibus
Chauffeur Driven Coach Hire Service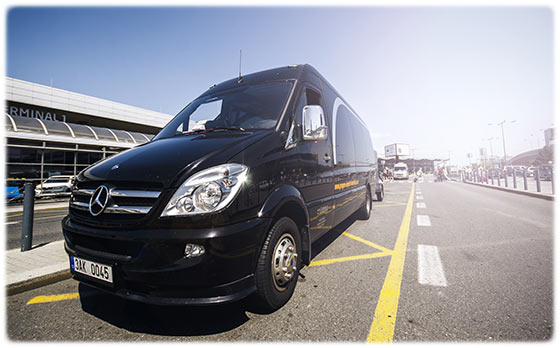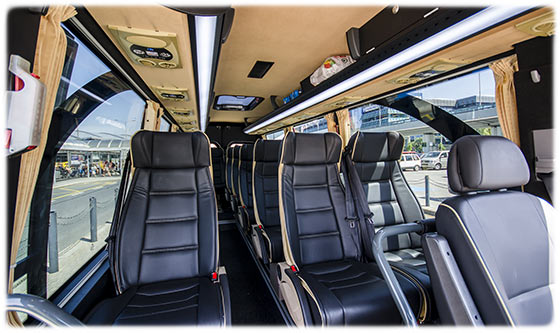 Bus Transport Routes
We offer a range of bus transport services. Not only do we provide bus services to and from the Prague Airport, but we also offer transport anywhere in the Czech Republic. Additionally, we have provisions for elongated multi-day trips to various European cities like Vienna and Budapest.
Bus Drivers
Our bus drivers are extensively trained professionals who have to undergo driving safety courses regularly. They are fluent in English, and some also speak other foreign languages like Spanish or German. They are always in their uniform and are polite and helpful.
Facilities
All of our bus service vehicles are top-notch in quality and maintained regularly. There are provisions for refreshments and various drinks while you are on the bus. If you need car seats for your children, just let us know, and we will gladly provide you with those. There are various other facilities we provide to ensure your satisfaction in travelling with us.
Benefits we Provide with our Transfer Services
We Accept
-> Cash upon arrival (CZK, USD, GBP, EUR)
-> Credit card – MC, Visa, AMEX, Diner's Club, JCB (you can pay either online or to your driver)
-> Bank transfers (corporate customers)
-> PayPal
Note – If you pay with a currency other than CZK, the prices may vary slightly depending on the exchange rate.
10% Discount on Long-Distance Transfers in a Minibus
If you prepay a booking of the Superior Tour or Dining on the River Cruise, you will be eligible to enjoy a 10% discount on transfers between Prague and other EU cities such as Vienna, Nuremberg, Passau, Krakow etc. To enjoy this offer, write 'Long-Distance Transport 10% discount' when booking your transfer with us. Bookings must be paid for at least 24 hours in advance of your pick-up or tour date. A standard cancellation policy applies.