Shared Minibus Transportation From And to Prague Airport
Shared Shuttles to Your Hotel
Our shared shuttle transfer services are affordable means of transferring to and from Prague Airport. While you might consider using an airport taxi, they tend to get quite expensive, and you might get overcharged by fraudulent taxi drivers. Our private taxi service can take good care of you too, but if you are looking for a cheaper alternative, our shared shuttles are what you are looking for. We highly recommend shared shuttles if you are travelling alone or in smaller groups or are travelling on a tight budget.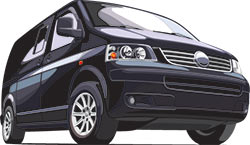 Prices between the Airport and your hotel (or address) in Prague
Details About the Shuttle Service
Upon your arrival at Prague Airport, you'll find our chauffeur waiting to pick you up and take you directly to your preferred destination. Even if your flight is preponed or delayed, you don't have to worry – we will check your flight status online and will still be there to receive you upon your arrival.
If you are the only customer to order transport at that time, you will be directly taken to your hotel without any stops. Transfer to Prague city centre usually takes around 30 minutes without any stops.
If multiple passengers share the minibus, the transfer may take up to one hour as we may have to make multiple stops en route.
The fare includes transporting standard luggage. If you have additional luggage or carry oversized special luggage (such as a bicycle), we recommend you use our private transfer service instead of a shared shuttle.
Our minibuses are air-conditioned and quite comfortable, and always in the best condition. Smoking is not allowed inside the transport to ensure a proper environment for the shared shuttle.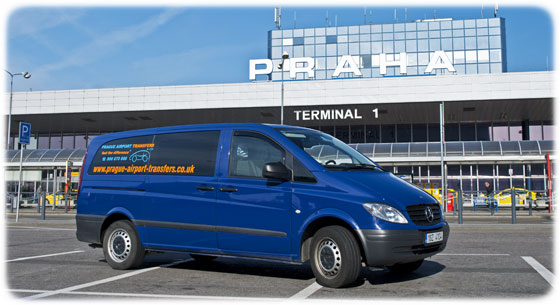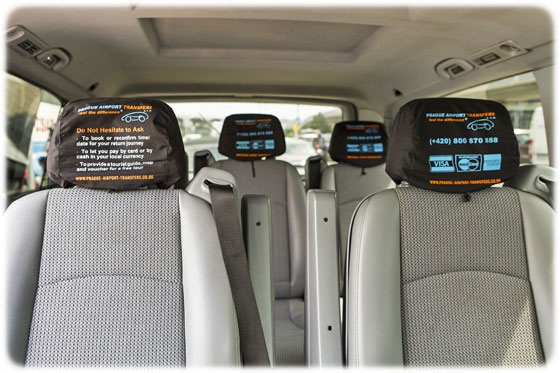 I would like to thank you so much for the amazing service we got when we visited Prague a week ago:-))all our drivers were well mannered,professional and very helpful:-))we will absolutely recommend your company to our friends and family:-))) Thank you from the bottom of our hearts for making our visit to Prague an amazing and a memorable one.i must say we were all impressed of your drivers:-))))))thank you again and we will sure come back to Prague and use your services again:-)))))

Dear Steven , Just a line to say that I was very impressed with your transfer service. Excellent comfort, prompt and efficient drivers but... your little guide book was just FABULOUS to browse through over a cocktail and dinner...

Booked on line from the UK a couple of days before departure. Easy booking system, fast acknowledgement and no pre payment required, just paid the driver on arrival at the hotel. Clear accurate pricing (about £16 per car) which was an enormous Skoda Superb estate which would happily accommodate 4 passengers and luggage, English speaking driver meets you at arrivals and helps with luggage. Efficient transfer straight to the hotel without fussing about with local public transport or the overpriced public taxis. The best bit was being handed a voucher to join a free walking tour of the city from the Old Town Square. This turned out to be a 5 hour walk taking in most of the prominent sights of the city, including a hike up to the Castle with an English speaking student; worth the taxi fare alone. We were so impressed we booked the return trip to the airport with this company without any hesitation at all.

I wanted to write to you, to thank you for the outstanding service we received on our recent holiday to Karlovy Vary. Your drivers are all very fluent in English and make the customer feel at ease and comfortable, happy to talk but never demanding a conversation. I could not be happier with the service we received, particularly the lovely driver who took us from the airport to Grand hotel Pupp and collected us - we were grateful for his easy going nature, and that he was happy to stop for us as the journey was a while. We appreciated the fact he was a very careful driver as the weather was quite icy, and that he put our safety first. I am happy for you to quote me in any way, and will recommend you strongly both on trip advisor and to anyone we know travelling to Prague. We look forward to booking with you again in December 2015.



Hello, we used your services on 14th December 2014. I have just highly recommended your services as excellent on trip advisor, please don't let you standards drop keep providing excellent service and your future will be secure.

Just a quick email to compliment you on your service. On time, with friendly efficient staff providing excellent value for money. I would easily recommend you to anyone visiting the city. Many thanks.

Just made our trip from our hotel to the airport. Thank you for 2 very easy journies. Pleasant driver, fast repies to email queries. I would be happy to recommend your service. Many Thanks

Good evening,

I just wanted to say thank you for the excellent service we received from your company when we visited Prague. Both the drivers were well presented, very polite, helpful and punctual, and the cars were clean and comfortable.

We were very impressed with the professional service and would definitely book with you again. I shall recommend your company to friends and family if they visit Prague.

Thank you very much.

Just back from Prague and we used your services to and from the airport and a river evening trip.

All arrangement were first class....timing, pleasant drivers and contact from the office....texts and emails etc.

Well done and thank you.

Can't find my reference, but it doesn't matter, just good service from you

Hello, I just wanted to commend my driver who was efficient, very polite, knowledgeable and friendly -- and spoke impeccable English of course!  He made my trip into Prague city center very enjoyable le after a hard day. Thank you so much and please thank him; I am sorry I don't remember his name.

Hi,

Just wanted to thank you for a brilliant service, very professional and dependable which meant we were able to relax and enjoy our long weekend.  Thanks again.

Visited Prague-27th Feb 2015 to 2nd March 2015.