Transfer from Prague Airport to the Other Cities in Czech Republic and Europe
Private door-to-door transfers with professional drivers.
Transfers out of Prague
We offer transfer via taxi to any city or town in the Czech Republic from the Prague Airport and vice versa. Our rates usually tend to be much cheaper than regular taxis. If you are travelling in a large group, we can arrange your group's transfer to and from Prague Airport. We also offer transfers from Prague Airport or the centre of Prague to selected cities in the European Union.

To book our transfer service, click on the name of the city or town listed below. If your destination is not listed below, you can request a price quotation by emailing us your details, and we will get back to you shortly with an exact quotation.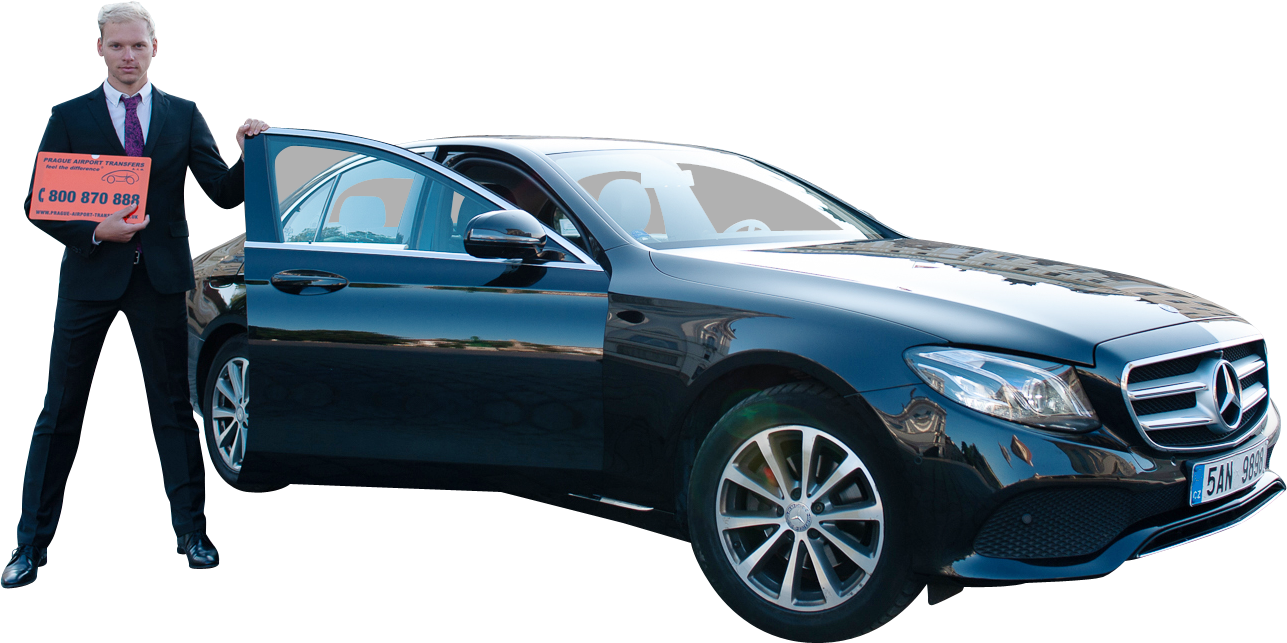 We Offer Three Types of Fares
Depending on the purpose and duration of your visit, you can choose from the three types of offers as follows:


One Way – The one-way fare is the standard fare you pay for our regular service to the location of your choice.
Same Day Return – If you return on the same day, we will not charge you for that. You only pay the one-way fare and the waiting charge. So essentially, you return for free. This option is best for travelling to your chosen destination and back on the same day.
Any Day Return – If you wish to return after a few days, the total charge will be double the one-way rate.
Waiting Fee Charge
For multi-stop transfers where we wait for you in one location for more than 15 minutes before moving on to the next, there will be a small additional waiting charge. This charge is not applicable for small stops that last less than 15 minutes. The waiting charge is CZK 380 per hour for 1-4 people and CZK 500 per hour for 5-8 people. To find out the waiting fee charge for larger groups, please contact us.
If you don't want to be directly transferred, we can also arrange a journey break and take you to interesting places on the way to your destination for a small waiting charge.
Free Minibus Upgrade
Most airport taxis are sedans that take up to three passengers and may not accommodate large luggage and bags. With Prague Airport Transfers, we will take up to four people and accommodate your luggage in a large vehicle like a minivan or minibus for free. Yes, that is right; we do not charge you any extra for larger vehicles. To use this service, choose "Minivan 4pax" on the booking form. Please note that this service is not applicable for groups of five or more, and only the standard-priced minibuses are available.
10% Off on Long-distance Transfers using Minibus
If you travel with us between Prague and other EU cities like Vienna, Nuremberg, Passau, etc., we offer a special 10% discount. For this, you must book and prepay a Superior Tour of Prague or Dinner on the River Cruise. To take advantage of this promotional offer, just write a note saying "Long Distance Transport 10% discount" when booking your travel with us. The booking must be prepaid at least 24 hours before your pick-up date. Standard cancellation policy applies.
FAQs
Can we stop for lunch, a quick tea break, refreshment etc., along the way? Yes, of course! But do make a note regarding such stoppages when booking our service.
How is the fare calculated? The fare is calculated based on the fastest route between your pickup and drop off points. We use Google Maps to determine this distance. Please note, we choose the fastest route instead of the shortest route to make your travel experience better.