Partnership
Hotels and other residence-providing agencies, along with travel agencies and companies requiring transfers regularly, can enjoy the cooperation and special prices of Prague Airport Transfers. The prices are negotiable on an individual basis.
Click here to download the partnership general pricelist.
You can also join our affiliate programme and earn commissions on referral sales if you run a website related to travelling in Prague.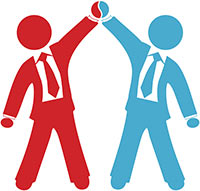 Regular Customers
Our regular customers can enjoy competitive partnership prices – whether they are individual customers or corporate groups – which will guarantee to save quite a significant amount of money for the same top quality and unparalleled service! So, if you travel to Prague Airport regularly, get in touch with us now!
Hotel Transportation
This is one of the best and most significant parts of our company. Many significant hotels and holiday apartments in Prague regularly use our transportation services for their guests. If you own or manage a hotel or holiday apartment, get in touch with us; we will most certainly meet all your demands.
Transportation for Corporate Groups
If you own or manage a corporate group, and your employees need to travel to Prague Airport regularly, you can think about our complete transportation service. You will be offered highly professional drivers, an up-to-date, comfortable and impressive fleet of cars, competitive prices, payment by invoice and a 100% money-back guarantee (no questions asked), to name just some of the many benefits we have to offer. As an added benefit, our polite and English-speaking drivers will ensure that any foreign clients or business partners you might have visited Prague will be welcomed properly and have a nice and comfortable journey, without the chance of being ripped off by the dishonest yellow taxi drivers.
Private Transfer
Our polite and English-speaking drivers will be waiting for you at the airport when you arrive. They will be holding a card with your name (or your company's name, whichever one you prefer) so that you can easily find them. If they have to wait for a long time, they will park their vehicles in a nearby, secure parking lot. If you are more likely to come out of the airport very shortly, the vehicles will be parked in the 'short-term parking lane' just outside the terminal building.
You can have the card that the driver will be holding customized to your liking. For instance, you can include the logo of your company in the card for easier identification. Some of our regular corporate customers use this method.
Shared Door-to-Door Shuttle
When our drivers are assigned 'transfer jobs', they are told to receive all the shuttle passengers from one flight. All of our shuttle passengers from the same flight travel in the same vehicle (occasionally, passengers from other flights arriving around the same time are also transported in that same vehicle). Normally we assign a minibus for eight passengers, but not always; sometimes, we send a standard sedan or a large minibus. We care about our clients' valuable time, so we try to minimize their waiting time by only having shuttle passengers from the same flight travelling in the same shared vehicle. The waiting time is relatively short – generally between five and fifteen minutes, maximum. Usually, a maximum of three separate groups of travellers are put together on the same route from the airport.