Our Company Provides Transfers Originating in or Destined for the Czech Republic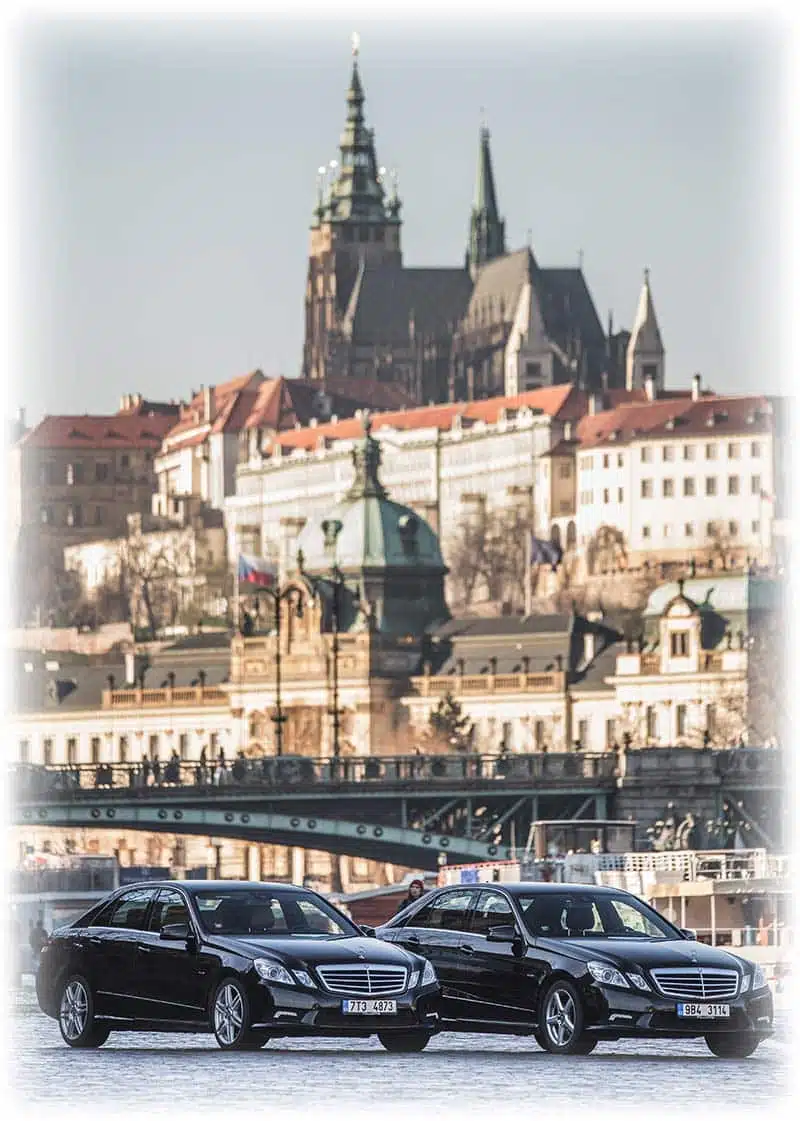 With Prague Airport Transfers, a professional driver picks you up from your hotel and drives you safely to your hotel in another city, saving you from finding taxis, lugging your bags, and waiting at bus or train station lounges or airport security lines. You can even add side-trips to castles, little towns and other interesting places you wouldn't be able to see otherwise.
We can organise transfers, for example from Prague to Nuremberg or vice versa. However, we can't arrange competitively priced transfers, for example, from Nuremberg to Budapest, as both cities are located outside the Czech Republic. In that case, we would have to send our vehicles from Prague, which would incur many extra miles, making the transfer quite expensive.
Transfers Between Prague Airport (or Downtown) and EU Cities
To make a booking, click on the name of the city or town or request a price quotation for destinations not listed here. Email us your details, and you will shortly receive an exact price offer back from us.
If you wish not to make a direct transfer, you can break the journey with a few hours' visit to an interesting place en route. There will be a small waiting charge. Also, for an extra charge, we can arrange a guide.
We Offer Three Types of Fares
One way – our standard charge.
Same day return – You'll pay only a one-way fare plus a waiting charge, so your return leg is free. This is your cheapest option if you're travelling to and from the same destination on the same day.
Any day return – multiply the one-way charge by two.
Waiting Fee Charge
If you require waiting or a multi-stop transfer, for example, you go to one city where we wait for you and then you continue on to somewhere else, we will add a waiting charge to your fare. Our waiting charges are as follows: 1-4 people: CZK 380 per hour; 5-8 people: CZK 500 per hour. For large groups please do contact us. We do not charge this fee for short stops not exceeding 15 minutes.
10% Off Minibus Long-distance Transfers
If you travel between Prague and other EU cities like Vienna, Nuremberg, Passau, Krakow, etc., we offer a 10% discount on such transport if you book and pre-pay a Superior Tour of Prague Dinner on the river cruise. To be eligible for this promotion, you have to quote/write a note 'Long Distance Transport 10% discount' when making your booking. Bookings must be paid at least 24 hrs before your pick-up or tour date. A standard cancellation policy applies.
FAQ
1
Can we stop for lunch, quick tea break, refreshment etc., along the way?
Yes, we are quite happy to stop along the way. Just make a note when making your booking (at no extra charge).
2
How is the fare calculated?
We use Google Maps to determine the distance between your pickup and destination points. When determining the route, we choose the fastest route, which is not always the shortest route.
3
Is it safe to travel with Prague Airport Transfers?
We assign our best and most reliable drivers for long-distance transfers, especially when it comes to communications skills, driving safety record, zero complaints, and local knowledge. We always screen all our drivers for criminal and traffic records and personally inspect cars daily. All cars must be less than five years old, in excellent operating condition, and insured as required by local law. We believe that providing a safer, more relaxing experience is essential, especially for longer trips.
4
Will my driver speak English?
Yes, all our drivers speak English as well as the native Czech language and sometimes additional languages too. They're happy to discuss local culture with you, provide useful local knowledge about places of interest, and answer any questions you may have.
5
What's included in the price? Are there any additional fees?
The quoted price is final, and there are no additional fees for our services or short breaks. However, optional longer waiting fees are not included in the price. Rest assured, there will be no surprises or additional fees.
6
Can I book a transfer now and make changes or add a stop later?
You can change your itinerary free of charge until 24 hours before departure if the transfer starts outside of Prague. For transfers starting from Prague, there is no problem to make a last-minute change even less than 24 hours before departure, and there won't be any extra charge.