Prague Taxis
It is a common warning in many tourist guidebooks and TV documentaries that Prague taxi drivers are ruthless and are looking to rip you off in all circumstances.
Fortunately, the overcharging problem has gotten much better since the 1990s. A special taxi police team has been created to focus on this problem and restore confidence in Prague Taxi drivers. Today, taxi scams in Prague are less frequent. Still, despite that, many taxi drivers use other practices to legally inflate fares, for example, by using longer routes, charging fares in Euros rather than in Czech crowns, and taking advantage of their own exchange rates.
The problem is well known even among locals, and they won't take public taxis from the airport or train station as confidence in Prague Taxi drivers is nearly zero. They would always book reliable transport from a taxi company or use an application to book a private car.
Most visitors do not stay in Prague long enough to learn how not to get overcharged. Most of them learn by mistakes or compare prices with other capitals like London or Paris, where prices are much higher, and even not recognizing they had been cheated. Luckily, Prague Airport Transfers is here to help make your transport worry-free, with guaranteed fixed prices.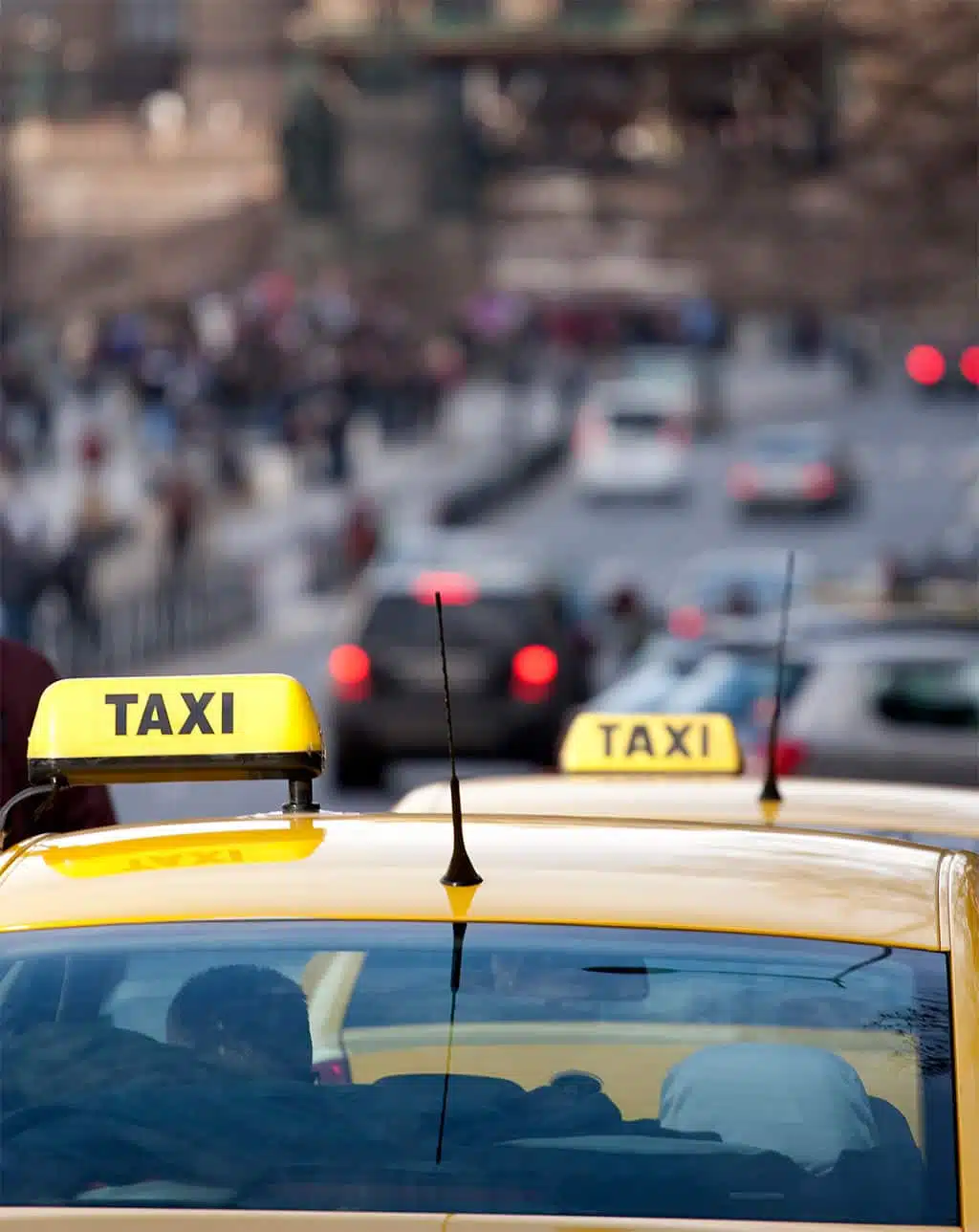 Outrageous Overcharging
Once dressed as an "Italian", the mayor caught a cab for the 3km (1.8 miles) journey to Prague Castle. He found himself in a taxi with a rigged meter and was charged the equivalent of 26 euros (£18; $34) for a trip that should normally cost 4.3 euros. "Disguised the way I was, I was certainly expecting to be charged a higher price, but not to such an outrageous extent," Mr Bem said. Drivers caught overcharging face a fine or could lose their licence. "The driver deserves to be severely punished - I am putting the matter into the hands of officials at city hall." The cabbie could face a fine of up to 33,000 euros ($43,000), he added and is in danger of losing his permit if caught re-offending. In another taxi, Mr Bem saw his fare shoot up by 200% when he asked if he could pay in euros, rather than koruna. He said more town hall staff would be tasked with going undercover to find cab drivers who were flouting the rules. Prague taxis have regulated meters, but some drivers have installed devices that speed the meters up to increase the fare. A German parliamentarian complained last year she had been overcharged during a visit, while most locals use only reputable minicab operators booked over the phone. Officials fear the city's notorious cabbies could put off some of the millions of tourists who flock to Prague each year, bringing valuable income. In the meantime, Mr Bem's advice for visitors is to agree on a fare before getting in the taxi.
A BBC correspondent in Prague says stories about dishonest taxi drivers have become part of local folklore. Stories of drivers wiring up passenger seats give customers an electric shock if they object to the price. (source BBC)
Read more about sad taxi stories here, or check recept post on The Telegraph (Czech journalist threatened for lifting lid on Prague taxis 'ripping off' tourists)
Prague's Mayor Has Had the Chance to See for Himself Whether the Many Accounts of City Taxi Drivers Ripping off Unsuspecting Tourists Are True
Posing as an Italian visitor in a fake moustache and sunglasses, Pavel Bem hailed a taxi for a short ride - and was promptly overcharged by some 500%. Mr Bem said he was shocked by the extent of the problem and has vowed to step up controls on taxi drivers. A newspaper thought up the undercover operation in the Czech capital. The daily paper, Dnes - which has been campaigning against overcharging - persuaded Mr Bem to dye his hair black, slick it back and put on a moustache, goatee beard and pair of expensive shades for his disguise.
Taxi Drivers Overcharging for the Journey From Prague Airport - Up to 5000 CZK
From mid-January 2010, Prague police have performed random checks and inspections of taxi drivers at the airport. In the period to 23rd February, police checked 355 cabs and issued fines totalling 66,000 CZK. Also, 50 drivers were reported to the municipal administrative department and risk losing their licences because of breaches of the rules. Police focused on the airport cabbies because of frequent complaints from passengers regarding overcharging. According to the official price list, a taxi ride to Prague city centre should cost about 600 CZK, but some corrupt drivers were not shy to ask as much as 5000 CZK.

Extract from the Czech press, Feb 2010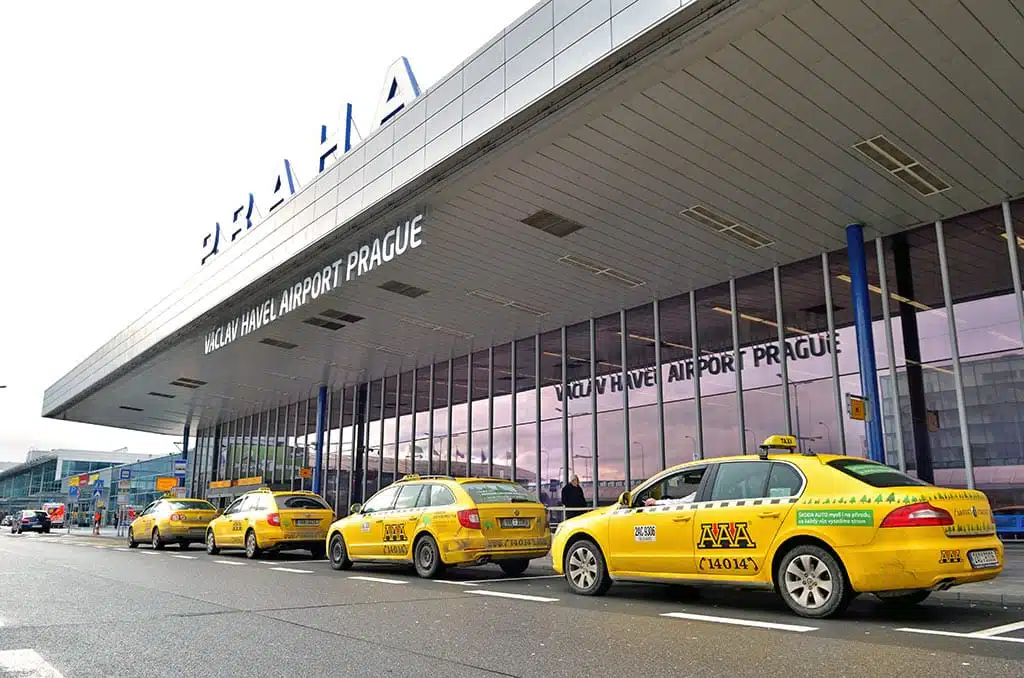 Complaints About Taxicab Drivers
Another example of a serious situation at Prague Ruzyně Airport is from November 2009, when an "illegal" cab driver swindled passengers who were undercover officers of the Prague City Hall. The cab driver charged them 2,140 CZK for a 10-kilometre trip from Prague Ruzyně Airport to the Hotel Diplomat (approximately five times the regular price of the fare). Another surprise surfaced when the police wanted to see his driver's licence. The cab driver was driving without a licence because he had none, and he had already been arrested for the same offence once before.

Source: Blesk newspaper, November 2009
Taxi Fair Place
Even though the problems connected to the taxicab services in Prague mostly concern foreigners, especially tourists, locals are also frequently subjected to "overcharging" practices. The editors of the Týden weekly magazine had decided to check the cab station marked a Taxi Fair Place, which, on behalf of the city hall, has been guaranteeing fair prices to the customers for the past two years. However, the actual situation is different, and the "gold-diggers", being pursued by the city hall for many years to no avail, have been frequenting the cab stations marked as Taxi Fair Place anyway. The editors confirmed this when they hailed a cab at a Taxi Fair Place cab station. On its door, the car displayed the fare of 99 CZK per kilometre (an additional 99 CZK applies just for boarding the cab). Moreover, the taxicab driver had no problems breaching the ordinance (which regulates a maximum fare to 28 CZK per kilometre). "I really don't care," answered the cab driver.

Source: Týden Magazine weekly, October 2009