Enjoy Night River Cruise and Great Jazz
The jazz boat cruise is the perfect way to spend an evening: with great live jazz music and an a la carte dinner menu as your backdrop, you'll be able to admire picturesque Prague sights like the Charles Bridge and Prague Castle from the Vltava River.
The cruise includes: live jazz music and a welcome drink
The dinner package includes a three-course menu
Advance payment for this cruise is required 24 hours before the date
Live Jazz Concert
Always great musicians and a full band - trio, quartet, sometimes even quintet. Forget about one keyboard-man show! Many popular jazz standards are played with some Latin jazz and blues. Jazz specialists will not be disappointed with the high quality of the musicians, and even non-jazz fans will enjoy the pleasant music and atmosphere.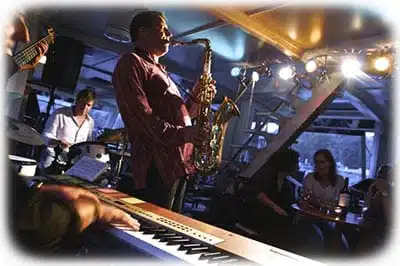 Jazz Boat Restaurant
The Jazz Boat is the only boat in Prague offering an a la carte menu served at your table, with fresh ingredients and great food. The Jazz Boat restaurant is considered to be the best river catering in Prague. A full three-course menu is available for a special price (gourmet three-course pork menu CZK 390, delicious three-course chicken menu CZK 350, salmon menu CZK 490 or vegetarian menu CZK 350), and of course a large selection of wines and cocktails.
Jazz & Dine Package
This package includes a 3-course menu. - Duck liver pate on Danish pastry with cranberries - Rosemary chicken steak, potatoes au gratin in a creamy mustard sauce, or mashed potatoes with shallot - Apple pie with whipped cream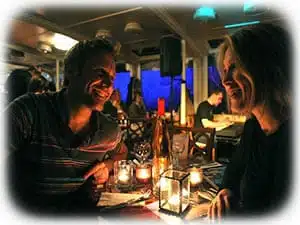 Boat Information
Are the boats heated or air-conditioned? All river cruises are done on comfortable, well-maintained boats that are air-conditioned in summer and heated in winter. You can also choose where to sit depending on the weather (in the summer, you might prefer to sit on the deck and in the winter inside the boat) so taking a cruise is nice regardless of the weather.
Do I Need to Pre-book This Cruise?
Yes, It is necessary to reserve this boat cruise in advance as the number of places on the boat is limited. We will confirm your reservation within 12 hours. If you cancel this cruise at least 2 hours in advance, we will not charge you any cancellation fees (full refund).
Transfer to the Boat Departing Point
It is possible to order a taxi transport to/from boat departing pier to hotel. We charge CZK 300 for a party of 1-4 people (one way) and 400 CZK for 5-8 people.
Boat Departing Location / Pier
The boat departing point is next to Čechův Bridge (a 10-minute walk from Old Town Square). The pier is right next to the Intercontinental hotel. The closes underground station is Staromestska station on line A. The closest tram station is Pravnicka fakulta station (tram no. 17). Detailed information will be provided in the confirmation email.
Tour Guide
The guide is not included in the price but can be arranged at extra cost. This option is recommended if you wish to make your cruise even more enjoyable, as a tour guide will explain interesting facts about the sights you will see from the boat.
It was a great trip. We can't thank you enough. Cruise was definitely the highlight of our stay. I shall recommend it to our friends. Porter, UK
We all enjoyed the cruise very much. Entertainment was lovely and the buffet was really delicious. We found it easy to book and good value too. We will recommend this cruise to our friends and family. Kenilworth Family
Thanks for arranging dinner on the river during our brief stay in your lovely City. Food and live music was very nice. I would recommend this river cruise to anyone as it is such good value. John & Jane, United Kingdom