Enjoy a Boat Cruise With Unusual Picturesque Views of Prague
Inclusive of buffet lunch and aperitif.
Sailing down the Vltava River, you can admire the historical centre of Prague, the ancient churches, and the post-modern buildings. The Charles Bridge... The Lesser Town... The St. Nicolas Church... The Prague Castle... The National Theatre... The Dancing House... The cruise gives you a chance to see unusual picturesque views of Prague and all the monuments. While having lunch, you can relax, be entertained by the music and enjoy the cruise. The lunch during the cruise is a buffet, with a choice of hot and cold dishes. A large selection of drinks are available but not included in the price.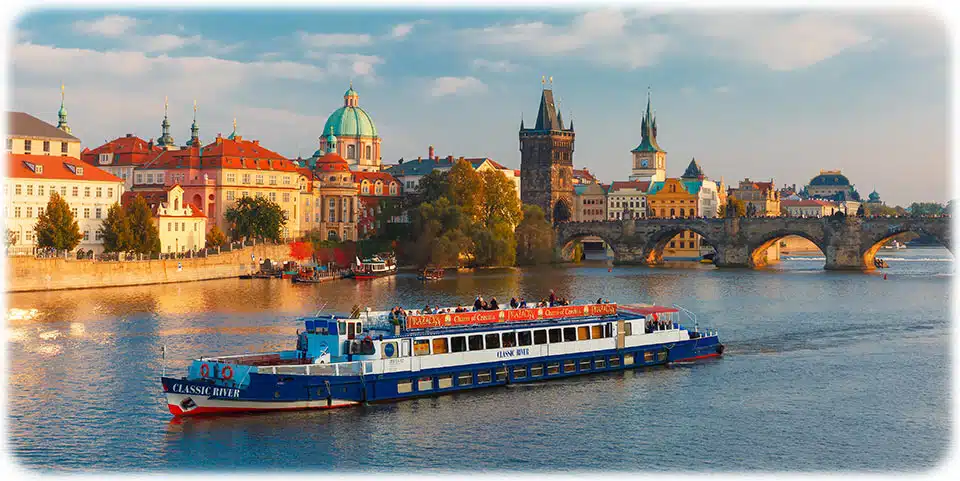 Boats Information
Are the boats heated or air-conditioned? All river cruises are done on comfortable, well-maintained boats (mostly, we use Classic Riverboat) that are air-conditioned in summer and heated in winter. You can also choose where to sit depending on the weather (in the summer, you might prefer to sit on the deck and in the winter inside the boat) so taking a cruise is nice regardless of the weather.
Classic River is Prague's biggest holiday boat with a capacity of 400 persons. The lower deck of this fully refurbished boat offers a beautiful, stylish wooden pub - a great place to meet real Prague sailors. In addition, the boat has three sunny decks from which you can see charming sunsets.
Do I Need to Pre-book This Cruise?
Yes, It is necessary to reserve this boat cruise in advance as the number of places on the boat is limited. We will confirm your reservation within 12 hours. If you cancel this cruise at least 2 hours in advance, we will not charge you any cancellation fees (full refund).
Transfer to the Boat Departing Point
It is possible to order a taxi transport to/from boat departing pier to hotel. We charge CZK 300 for a party of 1-4 people (one way) and 400 CZK for 5-8 people.
Bus Pickup Point
Our bus will drive you to the pier, where the boat awaits you. The pickup point is Na Příkopě 23 (5 minutes walk from Wenceslas Square) at 11:30 am. Or you can make your own way to the boat. The boat departing point is between Čechův Bridge and Štefánikův Bridge.
Tour Guide
The guide is not included in the price but can be arranged at extra cost. This option is recommended if you wish to make your cruise even more enjoyable, as a tour guide will explain interesting facts about the sights you will see from the boat.
We all enjoyed the cruise very much. Entertainment was lovely and the buffet was really delicious. We found it easy to book and good value too. We will recommend this cruise to our friends and family. Kenilworth Family
Thanks for arranging dinner on the river during our brief stay in your lovely City. Food and live music was very nice. I would recommend this river cruise to anyone as it is such good value. John & Jane, United Kingdom