Prague Airport Transfers
Your One-stop, No-fuss Transport Provider from and to Prague Airport
Prague Airport Transfers is a private airport taxi service
that gives you a quick and easy way to get to and from Prague Airport (Václav Havel Airport) with the minimum of fuss. Avoid the waiting and the hassle of public transport, or the risk of being overcharged by street taxis. Our airport transfer service is a convenient, reliable, cost-effective way for you and your luggage to get between the airport and your destination. 
Prague Transfers offer the following options:
How do I Book?
With our online booking facility it couldn't be simpler. If you prefer, you can also make a reservation by phone. We take cash or credit card, and we offer you a money-back guarantee. And, once you've completed the booking form (without even needing to prepay your booking or provide card or personal details), we'll give you instant confirmation of your booking. See our prices on our pricing page. For more details, read about how it works.
It's as Easy as Pie...
All our chauffeurs speak English (and some also speak Russian or German) and know their way around Prague. You'll have no problem communicating with your driver and reaching your destination safely. All our vehicles are new, no more than four years old, and air-conditioned, with free Wi-Fi, allowing maximum comfort while you travel. We will also give you a free printed visitor guide, a map and even a four-hour optional complimentary tour of Prague so you can start getting to know the city.
Whichever option you choose, our friendly chauffeur will be ready and waiting to greet you. We track arriving flights online, so even if your flight is delayed or arrives early, we'll be there for you.
Free extras
With every shuttle, taxi or limo transfer we provide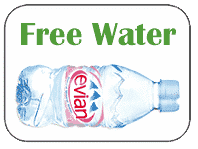 Free Bottled Water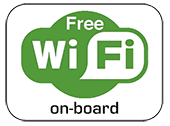 Free Wi-Fi
Benefits of Pre-booking
Getting from or to the airport on time always tends to be a bit stressful. You might be just as well off using public transport or taking a regular taxi and hoping that they will not overcharge you. Of course, you do have these options - the choice is yours. However, our private airport transfer will provide you with the comfort of knowing that after you arrive at Prague Airport, our chauffer will be waiting to pick you up and take you and your luggage to your destination, without any hassle. Our prices are fixed, with guaranteed savings of up to 50% compared to the regular taxis.
Early Arrival? Not a Problem!
If your arrival to Prague will be within one hour, please give us a call, otherwise fill in the booking form.
Recommended by travellers; find us on TripAdvisor and FaceBook
A bit of good advice. Everyone tells you not to trust the Czech taxi drivers especially to and from the Airport. Simple solution book and prepay your taxis through Prague-Airport-Transfers.co.uk, service was superb. source TripAdvisor.com
Hundreds of U.K. customers use our airport transfer services every day. Read what our satisfied clients had to say about our service. Or, browse our FAQs for common questions and answers, or contact us with any other questions you may have.
We have just come back from our visit to Prague and we would like to say a big thank you to our drivers, they were both on time and very professional, and helped with the luggae to and from the car. The driver on the 1st day of our trip gave us some very useful information about the City, and a brilliant map. The free tour that you offer is also brilliant and we learned so much about the City and the History of Prague. We would definatley recommend your company to anyone wanting to visit Prague, and would definately recommend the tour. Thanks again. Cherise and Johnny read more testimonials